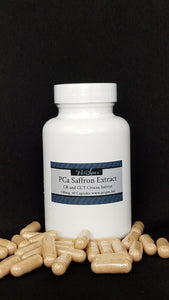 ZMAX Saffron 100mg. 60 caps
Regular price $99.95 $34.95 Sale
I am pleased to announce that after months of trials on my inner circle of sufferers this stuff is working!
This Saffron is a special extract formulated in Italy specifically for Prostate Cancer. Here is a copy of the information from a Uro-Oncologist in Italy as I first read it.
 As you know prostate cancer continues to be a leading cause of cancer death in males . Patients with localized prostate cancer possess a favorable 5-year survival rate, whereas patients with metastatic cancer have a median survival of only 12–15 months, which is an indication that PCa cell metastasis is the primary mediator of mortality for this disease. A variety of therapeutic strategies are utilized for the treatment of advanced metastatic PCa. However, despite advances in the understanding of PCa biology, these therapies rarely produce significant increases in survival time in metastatic PCa. Natural products like yours have long been used to prevent and treat diseases including cancers and might be good candidates for the development of anticancer drugs. Many herbs and spices are the subject of scientific investigations related to antioxidant properties and health. Saffron, a commonly used spice and food additive, is known for its anticancer and antitumor properties. CR and CCT, two carotenoid compounds derived from saffron, have shown a significant inhibitory effect on the growth of cancer cells .